recognitions
States, regions, cities, local authorities, universities and international institutions recognise the "United States of the World" through resolutions ...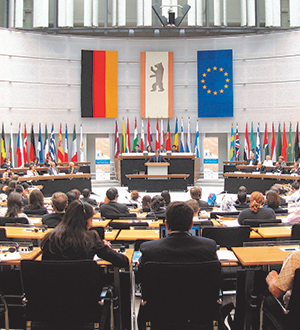 The Naples headquarters of the United States of the World is a destination for personalities from the worlds of politics, religion, culture, science, diplomacy, voluntary work, business, trade unions and - in general - civil society from various countries around the world. In more than thirty years, Heads of State and Government, diplomats, representatives of international institutions and civil society, Nobel Prize winners, academics, men and women of culture and science, as well as representatives of trade unions, enterprises and social volunteering have visited the headquarters - located in the histo-rical building "Grand Hotel de Londres - Palazzo Pierce" in Naples - appreciating the action undertaken in favour of the Earth and Peace, as witnessed by the dedications on the book of honour.
They include the Presidents of the Italian Republic Francesco Cossiga, Oscar Luigi Scàlfaro, Carlo Azeglio Ciampi and Giorgio Napolitano; the President of the French Republic Francois Mitterand, Nobel Prize laureates Naguib Mahfouz and Shirine Ebadi, the President of North Macedonia Kiro Gligorov, the President of Portugal Anibal Cavaco Silva, the Presidents of the Republic of Malta Guido de Marco and George Vella, the King of Morocco Mohamed VI, the King of Jordan Hussein bin Talal Queen Rania of Jordan, Prince Hassan of Jordan, King Juan Carlos I of Spain with Queen Sofia, King Felipe VI of Spain, President of the European Commission Romano Prodi, President of the European Parliament Pat Cox, President of the Parliament of Morocco Abdelwahed Radi and many others.