headquarters
In 2002, the Naples headquarters of the "United States of the World" was inaugurated, and in the following years branch offices in other countries were opened ...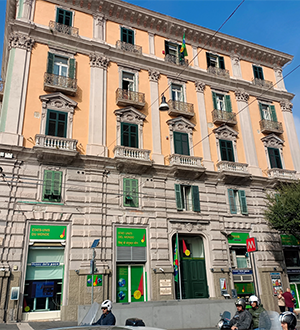 HEADQUARTERS
The headquarters of the United States of the World is located in Naples, in the historic building of the former Grand Hotel de Londres - Pierce Palace.  It was the then President of the Italian Republic Carlo Azeglio Ciampi who convinced the more than 1,500 delegates - gathered in Marseille on July 6, 2000 for the Rentrée solennelle of the United States of the World - to establish in the Neapolitan city the headquarters, originally proposed by France in the City of Marseille. The inauguration took place on June 22, 2002 in the presence of Heads of State and Government and representatives of international institutions and Civil Society.
Since that day, international events affecting the process of history have been hosted: Peace Conferences, Youth and Women's Forums, Interfaith Dialogue Meetings, Exhibitions, Debates on Future and Ecological Conversion, and much more: more than 3,000 events in more than two decades with the inauguration in 2013 of the Museum of Peace, a World Heritage Site, housed in the same venue.
THE BRANCH OFFICES
Since the year 2000, more than 200 branch offices and bureaux of the United States of the World have been established to better root the "Land and Peace" message in the territories.
Notable among them are the branches in Amman - inaugurated by Chamber of Deputies, President Casini and Princess Wijdan Al Hashemi of Jordan, Marrakech, Skopje, Brussels, New York, São Paulo, Sidney, Marseilles, Vienna, Sarajevo and many others in Italy, especially in the South.
Subsequently, most of these headquarters and bureaux have been incorporated into local associations or bodies that continue their action in the wake traced by the United States of the World.